Is your internship looking like a scam and an opportunity for free labour?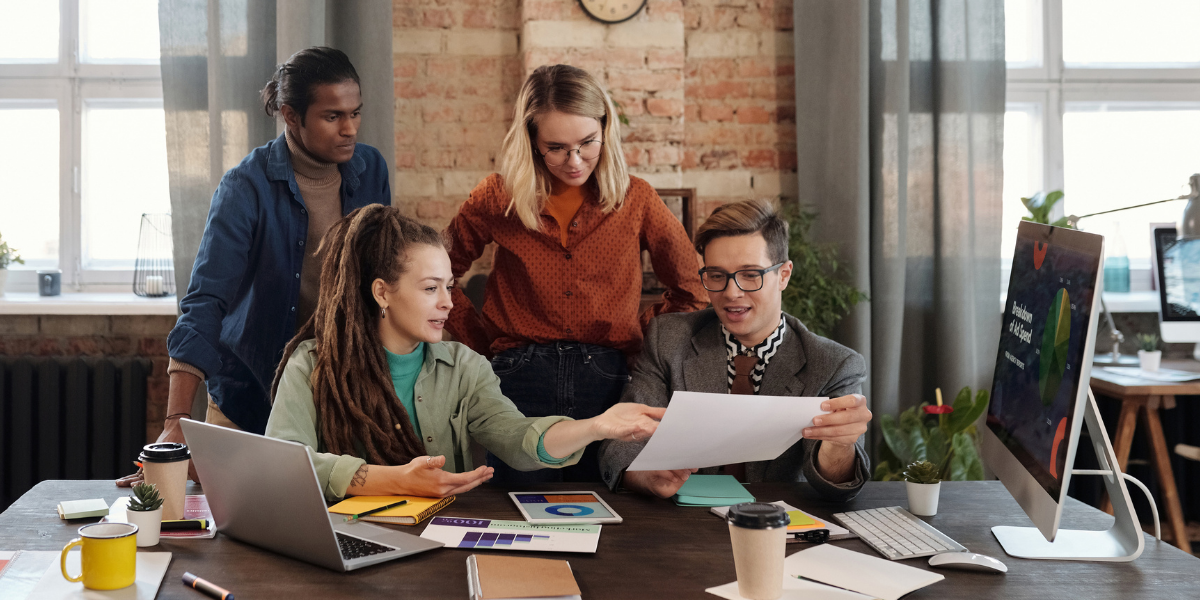 So you have just finished your undergraduate degree or are in your work placement year of your Bachelors degree, and you manage to secure your first office job or your internship. You are very excited and then…..The challenges flood in!
 Challenge 1-You start the job and you feel like you are spending more time making teas for people in the office than actually sitting at your desk.
Challenge 2 – The office veterans who come in the office 1 hour late, are asking "the intern to do what they are meant to be doing". Yes they are everywhere !
Challenge 3 – You have not been paid your allowance or wages for a few month. See this article 
Does this sound familiar? So, What do you do?
First point is to remind yourself that securing the internship is an achievement. Yes granted , it's not to make you give yourself a participation trophy but this will remind you that you deserve to be where you are. If you have ever been an international student is diaspora, this brings another layer of gratitude because that could easily affect your visa.
Second point is understanding that you don't have much control of other people's behaviour in that office. But your reaction to that behaviour can become a thermostat i.e you can control the temperature of the environment at least when it comes to how everyone sees you.
Now, there are a few things you have to ask yourself at this point.
– Why did you apply for this internship? was it just a natural step of career mobility after completing your degree? was it part of your Degree? I completed an internship in my undergraduate degree. This was a compulsory part of the honours degree in the subject i read.  So, initially i went into it just to tick the box that i completed the placement. You will see how this can negatively affect how you handle the challenges above.
–  Ask yourself what specific skills you want to learn from this internship. If you have a dream job you want to get after this internship then do two things:
   Get the job description for that post you want to have and make the required skills for that job, the framework of your PDP. If you don't know what a PDP  is , let me know. I will be writing an updated article of how to create and use a PDP .

   Write Down how you will mark milestones of the skills , once you develop them. You can track and mark milestones in several ways. For example if you want to     develop time management skills then do something like set a timer (i do 60 mins intervals) to work out how long it takes you to finish a task. Then create your  own grouping of similar tasks to do them together so that you create a flow, while checking deadlines with your supervisor. Once you  start putting timers on, to complete a task, i guarantee you, you will be faster because you become conscious of the time.A use of a daily planner with goals ; to do list and details of your productivity level is another option you can use to track your milestones. Below is an example template.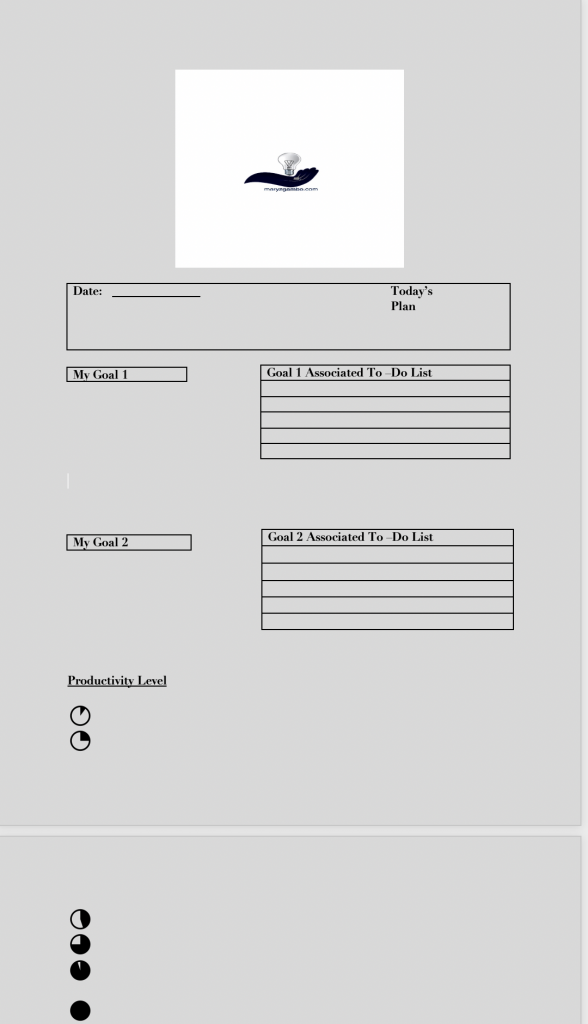 Here is how a daily plan can look like
Know where the resources are, for you to get ahead in your internship. These resources can be people, in house training opportunities; projects etc. don't wait for training to be offered, suggest it. If you are introvert (i should know!), you can still work around this by approaching people when not in a group at the beginning because you will be better with one to one conversation and will feel heard or be able to listen.
The next step is to look at the 5 strategies to bring Quantifiable results.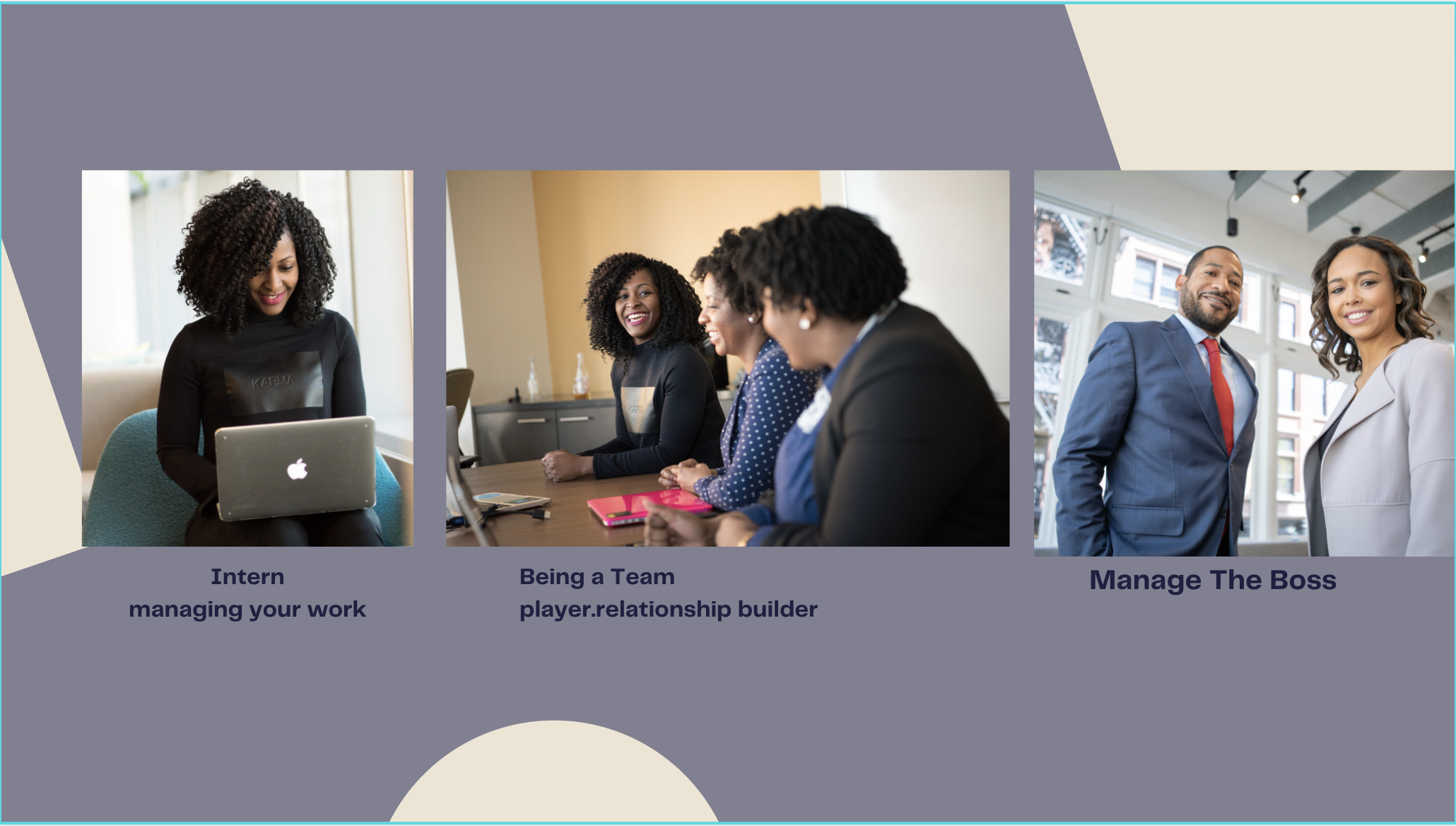 Strategy 1
Relationship Building …..with your needs in mind- 
First relationship will be with the person who supervises you. I have touched on this above. This can start with greeting and 1 or 2 sentences, asking general questions.People usually give an indication of things they like to talk about. Especially you, football fans. Different people have different communication styles. As an employee it took me a long time to engage in conversations in a way that projected the valid points i had, that would contribute vertically and horizontally in a team. This was partly due to culture (which i know some of you have experienced), and partly because i was in an environment that did not celebrate diversity. Any way, as i am also an entrepreneur now, i value people who think outside the box and make suggestions. Am not draconian in leadership. I am however, strict with my vision and goals but flexible with strategies. Does this mean you should be deceitful to a relationship with your supervisor? absolutely not.  If you have to be deceitful, then am not convinced that you are confident of your own potential.
This leads me to another suggestion on relationship building- get regular check-ins with your supervisor to get feedback. Understand your goals and their goals; the pressure of their deadlines (they also have a boss); their communication style , in other words they are your customer, so understand your customer.
Strategy 2
"Managing your Boss" with your needs in mind
Hopefully from having conversations , observations and checking in, you have developed an understanding of how your boss works. In my experience you are either going to get a boss who is a micro manager or one who gives you autonomy. Work out which it is in your case.
One golden rule that requires tact- Don't outshine the master.
If you have a supervisor that just detests you for whatever reason, don't fret to begin with. Through conversations, observations you should pick up , how they want the work to be delivered. How your work fits into what they are scored on by their boss.  Even bosses who don't like you, like their work done well so they look good to their bosses. Find out, what needs to be done and when, so that you can now get ahead of the curve and start the work before you get asked.  I think ,This works best for bosses who like to micromanage. Through this you will gain leadership skills and time management skills, from of you planning your work ahead of being asked.  You will also gain skills required in project management.
You are essentially 'managing your boss'  and gaining your skills. If you have done the above, and the supervisor is still moving mad, and even after having a conversation on expectations, then think about gaining this experience somewhere else. At least you now know what skills you need to gain. Don't lose your objective.
Now, i am an African based in Europe so i have seen that the horizontal communication style is different. Mostly down to culture. This is both in a work setting and study (academic ) setting.  If you are moving between the 2 continents or remotely employed , you should be aware of this because it can drag your career down. Am not here to argue which one is better in this post but what am saying to you is, know 'your customer' and adjust accordingly. The important point is don't lose your objective.
This follows to say – manage your priories. If in your culture , you accept every work you are given- learn to say no when you don't have capacity. How do you say no? You should have your planning schedule by now, so take this to your boss and show them what you have and the deadlines. You might find that either something is taken off or a deadline is moved. Quality work not quantity.
Strategy 3
Other Relationships besides your boss
Those people who keep asking you to do jobs that are really meant to be done by them, can come handy. Is it something you have worked out , will improve the skills you need for the next job? Are they in the department where the skills you want to learn are prevalent ? Can you get the information about resources , organisation culture and key relationship ideas from them? Answering and acting on these questions mean, You are now essentially widening your network.
Obviously be cautious of people who just have bad character – Look for positive influence and keep your needs in mind. Building work  relationships requires tact. What i have learnt is that, if you are someone who trusts people easily without discerning their intentions, you should learn to discern or speak less and engage more in general conversations only until you learn the balance. I observe and critically analyse much more than i talk.  In my internship , as i said , i came with only to tick the box. But luckily for me , One of the project managers saw my potential and one day sat me down and told me not to waste time but learn how to get the most out of the internship and think ahead.
Strategy 4
Stay Organised
I have not only been a new intern/employee before , i have also trained new employees. I have touched on time management above, while talking about planning your goals. 
When you are new, a lot of information (which isn't a lot really) , just new to you, can be confusing. Simple instructions can be difficult because organisations tend to use in-house or industry terminology that you can simply miss what is required.
For example someone telling you to "FTX customer 234 and run report on Mlab to check for errors then ping  Jack so he can complete payments". I have made up the names but have come across a similar scenario. What the person was asking me was to check database A, run a payment process then check data base B for any mistakes then email someone to complete their end of the process.
Organisation tip 1 – First thing to do is pay attention in meetings. Take notes of the key points- which database? how do you log in? who do i contact? what is the deadline?etc Who else do you report to when it's done. If process fails ,what are the trouble shooting processes etc
I have a youtube video where i shared how to create sub-mailboxes in Microsoft Office and why they are important if you are new.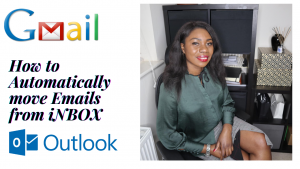 You can find this video here. You will start to see how related emails explain themselves in who does what and when.
Where you have a gap in expertise, organisation Tip 2 will help you.
Organisation Tip 2 – Be curious and Learn new technics.
Almost everywhere i have worked , the one attribute i have scored highly, is that i am always keen to learn new things which made me excel in times of restructuring. I have a natural interest in learning. Explains why even my holiday are packed with excursions! Am not the loudest in the room, but am more than likely the one with the plan.
Strategy 5
Have a positive attitude and be a team player.
I have worked with people who individualise their success while they make their mistakes a group responsibility.This does not mean you completely trump your achievements. Record them using the STAR method. This will help you when you are writing your statement for a new job and it will help you answer some behavioural interview questions in an interview
Conclusion.
Sometimes even "bad" internships can have good results. Which point are you going to try?
5 Ways to Use a Difficult Internship as Stepping Stone to a Dream job