Supplies for The Changing Office……at  Home

I would like to make reference to my last blog post but if you follow me on my  instagram  page , you probably know by now that i had lost a big chunk of my posts from last 2 months. Which caused a delay in my usual Wednesday posts. I have now managed to recover them and learned  some valuable lessons on operating back end of my website while resolving this.
This reminded me the importance of finding new solutions to handle new hicups or nuances.  This is how i have found these essential tips on working from home
One Now , i have been planning to share the things that i have found helpful with working from home. The majority of us have a home office now due to the global health crisis that has affected majority of us. Home office doesn't have to be a dedicated office.That corner/ floor/desk where you like to sit with  your laptop, is still an office. We cant despise small beginnings and
We are creatures of habit and i know most people will tend to sit on the same spot when they do certain things like work. So, for the purposes of this post, your office is where ever you sit and work for your online hustle. I have experienced so many changes in the past year that it has opened my mind to the fact that working from home does not mean you are working remotely on a corporate job. You may be an entrepreneur, looking for or securing clients. You may be a stay at home mum receiving homework from schools or may indeed be out of one job and just looking for other jobs online. It's still work. The point is that , work has to be in a separate box in a time when the lines between the home environment and work environments are now blurred . Therefore good tips can save money and make working like this easier.
The Must Have Hardware.
This ranges from where you sit , to the equipment you use and all other things that motivate you.
Where Do You Sit?
As mentioned earlier , if you don't have a dedicated office yet, you can still create your own work space. If i work very early in the morning, my work is done in bed. I am most productive in the morning so i utilise this time.
Here is a mobile desk you can use if you are working while in bed.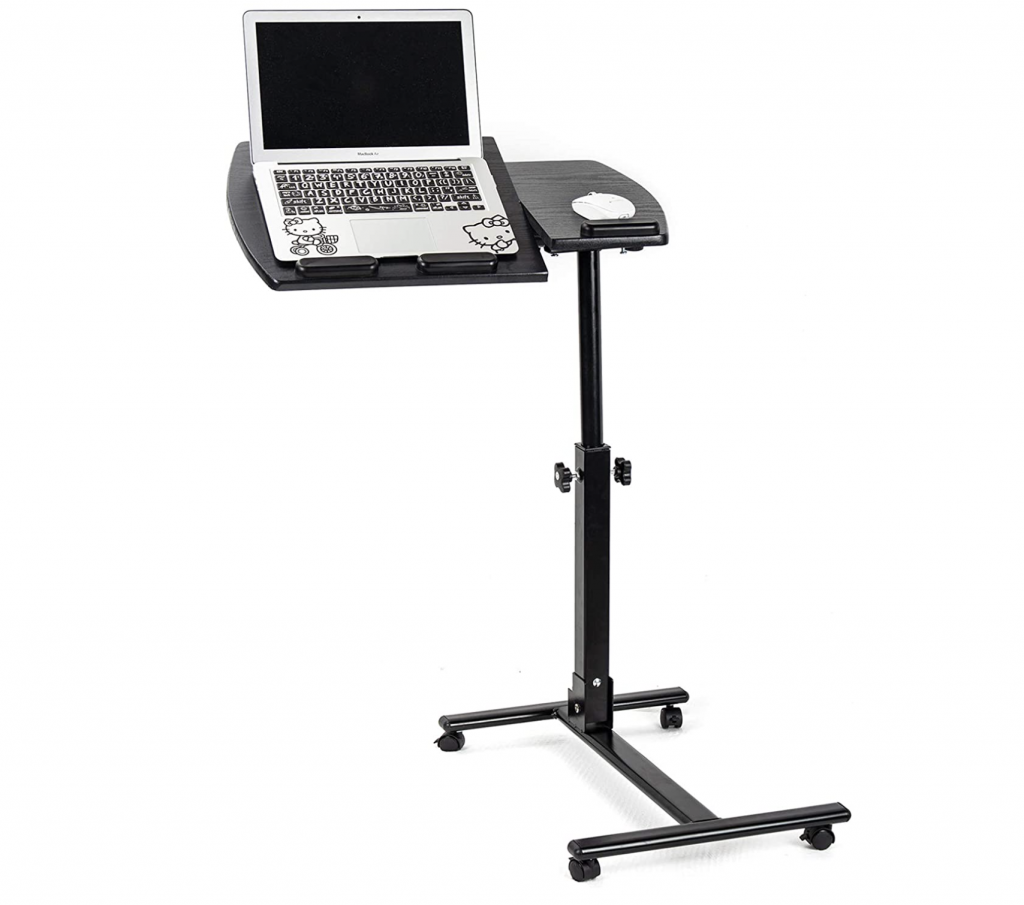 You can order this stand here.
What i love about this one, is that the height adjustable. It has a mouse pad so good space for manoeuvring your hand. You can slide the legs under the bed therefore you can work while your legs are in bed or out of bed.
Sitting At a Desk?
The ideal would be to have a dedicated office at home. If i had a dedicated office , i would use a desk like this reclaimed wood desk below from Dansk. I think they have one of the highest quality furniture and homeware on the high street. I bought my lounge sofa from Dansk and plan to get curtains from there too. With Dansk, i think the best experience you will have in appreciating the quality of their products is visiting the store because they do a great job with displays.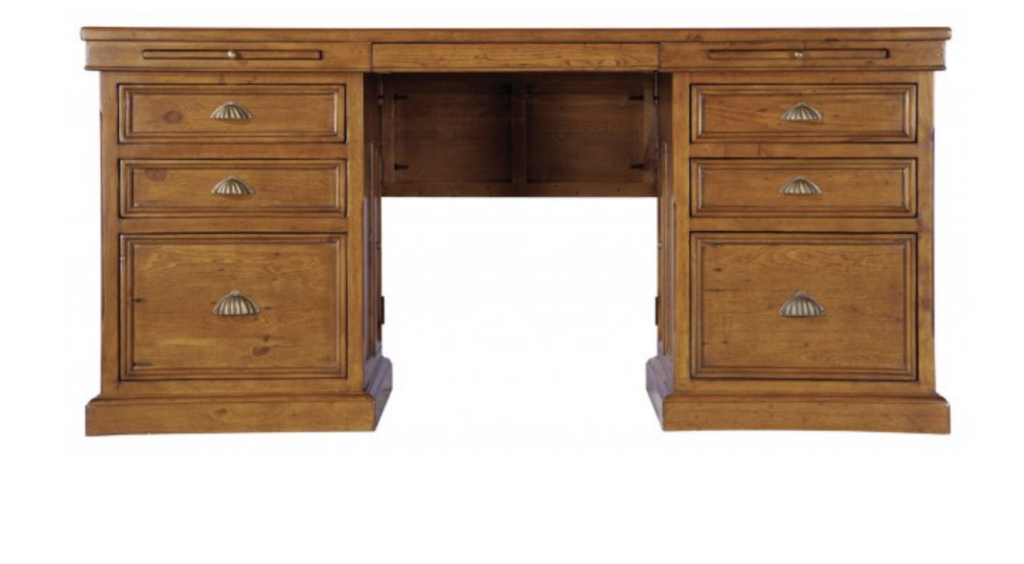 In the meantime though, i usually sit on a dinning table to do any kind of work. It helps with my ability to focus because i am sitting up and facing the window. These are some things that are important to my ability to focus. There are so many distractions at home and all these things i mention will be part of helping you keep  your mind from drift off . One tip i can give, at this point , that has worked for me is setting your alarm for 1 hour (the first hour) and don't take a break until that alarm goes off. By that time you will find that your brain is now engaged into what you are doing. If you are sitting uncomfortably , you might also find you are straining muscles. So  first is invest in a good desk.
Standing up Working Solutions
Being at home means reduced number of steps that we walk , unless you have built a solid exercise routine. I always say pre lockdown , most people exercised by default because there we places they had to go. The next best thing to get circulation moving is having the opportunity to work while standing.
Here is a desk raiser similar to one i have used before.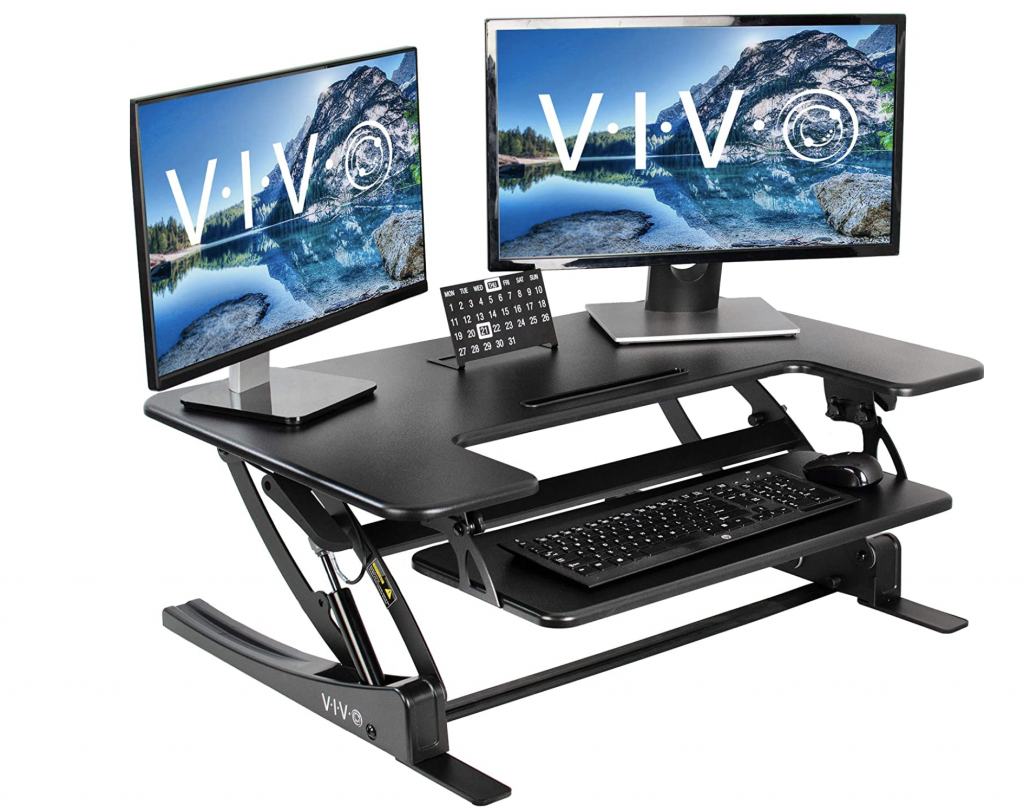 You can buy this Desk Raiser here
I have  used a similar desk raiser to the one above  and it was excellent. I would work standing for 30 minutes intervals. On the sides of the desk raiser, there are levers that you can use to adjust height. I am just over 1.59m tall and taller with heels . I was able to adjust it to my eye level. So it is great. It is quite heavy, so it's not something you can be moving about like a handbag. I will definitely use this again once i have a mobile desk.
You can actually use this on the floor if you prefer sitting down for any reason.
Which Computer and Accessories?
The Accessories
Wireless Keyboard and Mouse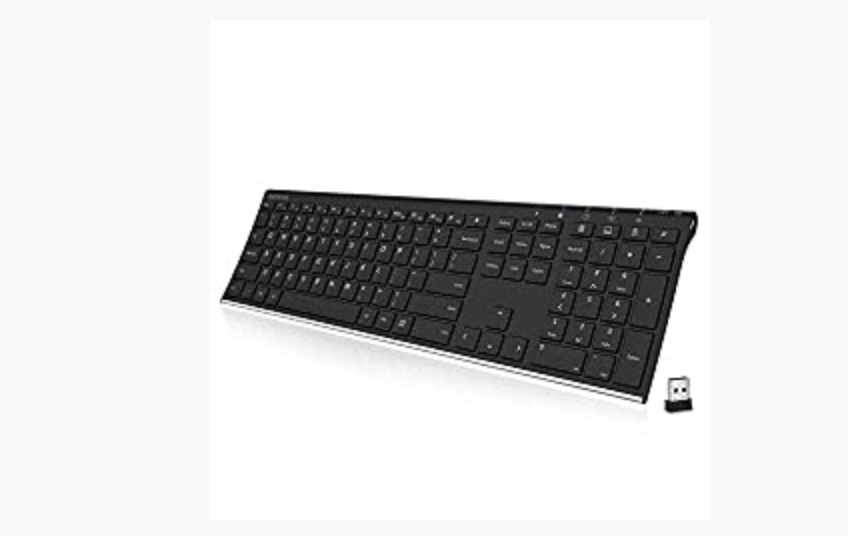 Wireless Key Board- You can pick this up here.
I don't like to have wires hanging anywhere if i can help it. Besides HDMI and VG cables, i look for wireless alternatives. One such alternative is a wireless keyboard and mouse. Since i prefer using an external keyboard when i work with big data (not sure why) , i bought an external wireless keyboard with soft buttons and wireless mouse. Also ideal because i move my work station often.
Computer…. with good screen size
I have used both desktops and laptops. I am comfortable with both depending on what i am doing. It's good to consider having  a laptop with good screen size or an external computer monitor  or both, to see what you are doing and not like you are looking through a key hole. Generally the wider the screen size the better it is. Here are the two laptops that i use.
The Macbook Pro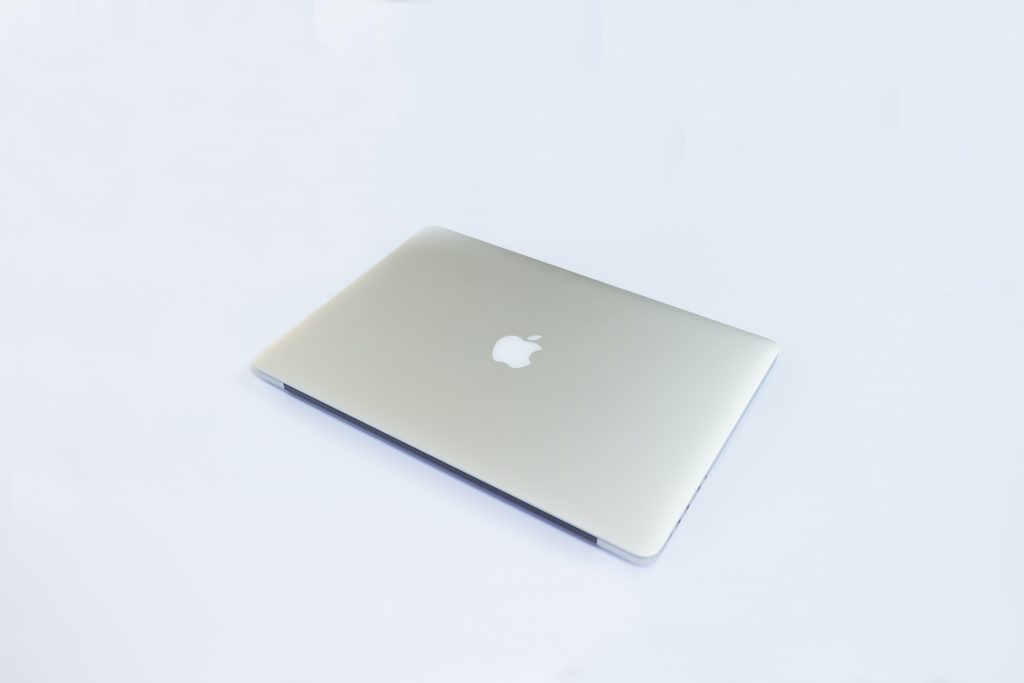 I bought a 16″ macbook pro for my personal hustles. I have also used a Dell laptop for other hustles. They are both good for different reasons but staying on the subject at hand, i will focus on working from home.
This Macbook has a larger screen compared to dell laptop and i like this because I am often working on the website and lately Microsoft Excel spreadsheets,  so better view and navigation between pages is key.

The sound on this macbook is as good as my bose speakers. I have noticed that i am heavily influenced by music. If i am creating anything visual , i am thinking of the mood and music and at what point in the song i should introduce text. If you are working on anything creative , This macbook is the one.

The key board is better than my last macbook and its better when i move from using the Dell to this one. My main issue was with the short cut keys when converting text files to Excel etc. That is better on this keyboard. Only one thing to point out is the USB port are not your standard USB ports. You therefore would need an adaptor to connect HDMI codes etc
If  you would like to read a comprehensive review on it, Techrador has done a good job of that here.
Laptop Desk Stands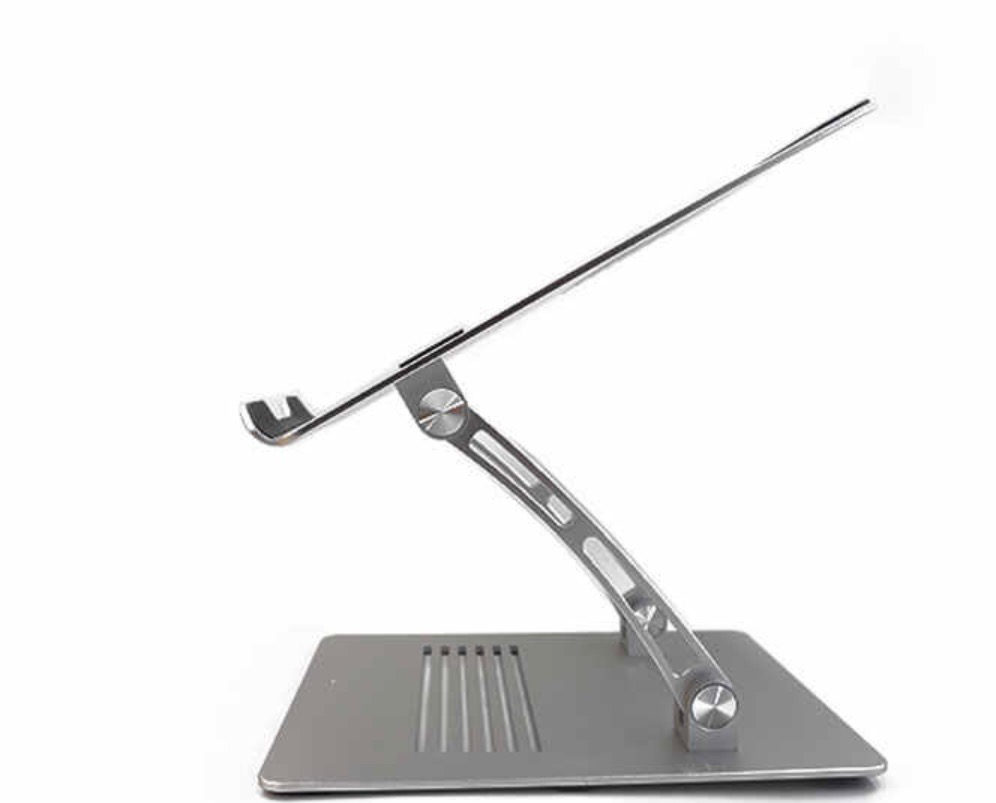 This is the favourite one i have Used. You can by similar one here
Here is why laptop stands are essential.
Laptop desk stands are an inexpensive way of stopping you from hunching over to see the screen . so you can get the laptop monitor screen as close to your eye level as possible.

Its even more important when you are using a second monitor because you will get your monitor screens to the same eye level.

For someone like myself whose desk is multi purpose, i can easily pack the laptop stand away if i want to work from a different location. I usually pack everything away on Friday. I am now used to connecting all HDMI codes in seconds when i want to move the work station.

The above above has vents designed in which reduces heating when a laptop is on a hard surface
Zoom call and Microsoft Teams Meetings Essentials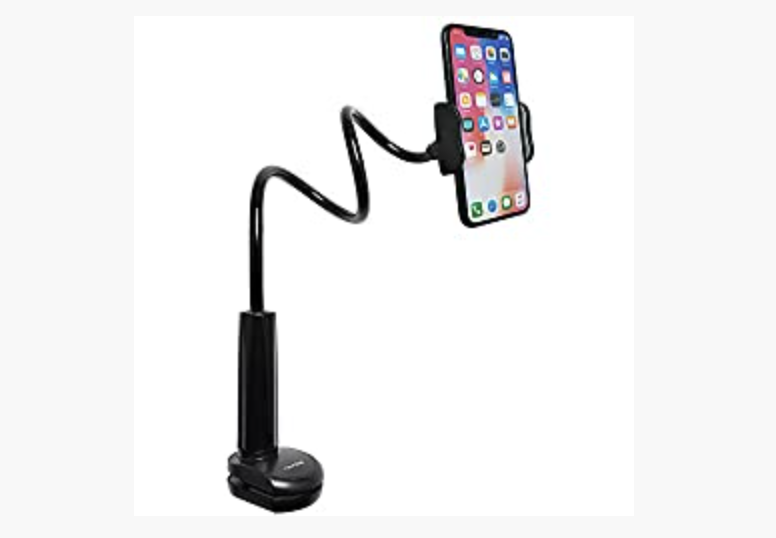 You can get this here
One thing that surprised me was a phone stand similar to the one above.  I initially bought it to be able to clip it on kitchen work top and record some videos while cooking.
I didn't like that it didn't match my aesthetics in the house. But it became the most useful gadget for the following reasons
I was losing connection and having sound issues when joining some meetings on Microsoft teams via my laptop but didn't have this problem when i used the App on my phone

I could just sit wherever i could find best lighting in the room and just clip this to any hardware, coffee table , window seal, desk , books etc

It is height adjustable so can have phone camera at eye level

I can use the phone camera to check that phone camera is at eye level etc

If you have to move to another room to reduce distractions, this is easy. you unclip and clip on a different location.
The 'other' Essential
The last Essential ,not by order of importance, is mental health. I cannot stress this enough. For most people , you think you are coping until one day you realise you actually aren't. And with that realisation people sink or sink lower.  One thing i will suggest is finding that one thing that you know will get you out of it. I split my goal into 3- mental , physical, spiritual health checks. For mental, what i watch or listen to is very deliberate. I only consume online content that is either educational or feel good (for escapism). For physical health, i jumped onto this Couch To 5k running App. Believe me , this is the best for anyone who has never run before.It builds gradually. The fact that i moved from driving from front door to put out rubbish bags about 10yards away, toto running 32mins straight is wild to me. My spiritual health is something i nourish every-single day. I read bible verses that affirm my faith. Every-single-day. Whether i feel i like it or not.
Conclusion
I recently went into the town i used to work and besides it looking like its bank holiday (deserted), i suddenly remembered how 11 months ago everyone left like we were all going out for a fire drill and would be back soon. 1 year later and its clear that the changes are permanent for most people. This means our aim should be for our current working environment to produce equal if not more than the work we produced in the office . Any hack to get to this while adjusting to the new normal and while learning all the new software and apps , is an excellent way of facilitating productivity and achieving work life balance.
7 ESSENTIALS FOR YOUR HOME OFFICE